Performance CORE B 3

Performance CORE B 3
Performance CORE B 3
is rated out of
5
by
4
.
3-Brännare | För 4-6 Personer | TRU-Infrared™ Technology | Stor Dörr
Din första gasolgrill i den kompakta mellanklassen, som gör att din BBQ alltid lyckas
Performance CORE är den perfekta grillen för nybörjare. Med den energisnåla och rostfria brännaren i stål når grillen snabbt den rätta temperaturen. Tack vare vårt innovativa och unika TRU-Infrared™-grillsystem fördelas värmen jämnt – och det gör att dina grillade produkter blir upp till 50 % saftigare! Grillsystemet sätts igång genom en knapptryckning och SureFire-tändningen som gör att alla brännare kan tändas separat och oberoende. Och på den vägen är det som Char-Broil skapar säkra grillkvällar för blivande proffsgrillare. Performance CORE har ett kompakt utförande och plats för att lagra en gasolflaska på 5 kg. Dessutom är den utrustad med våra praktiska Gear Trax-krokar, vilket gör att du har alla dina grillredskap till hands direkt vid grillen. Vår grill är förpackad i en miljövänlig FSC-certifierad kartong helt och hållet utan styropor. Med CORE-utförandet får du en robust basutrustning i svart design. Lekande lätt kan du sedan utöka och anpassa utrustningen med vårt MADE2MATCH-system efter tycke och smak. Från första början står CORE på plats och om några år kanske ett helt utomhuskök!
Läs mer
Läs mindre
---
1.
TRU-Infrared™ Technology
Vårt unika grillsystem med framgångsgaranti. Fem fördelar för din ultimata grillglädje, Upp till 50% saftigare mat I Upp till 30% lägre förbrukning I 100% jämn värmefördelning I Inga uppblossande flammor I Enkel rengöring.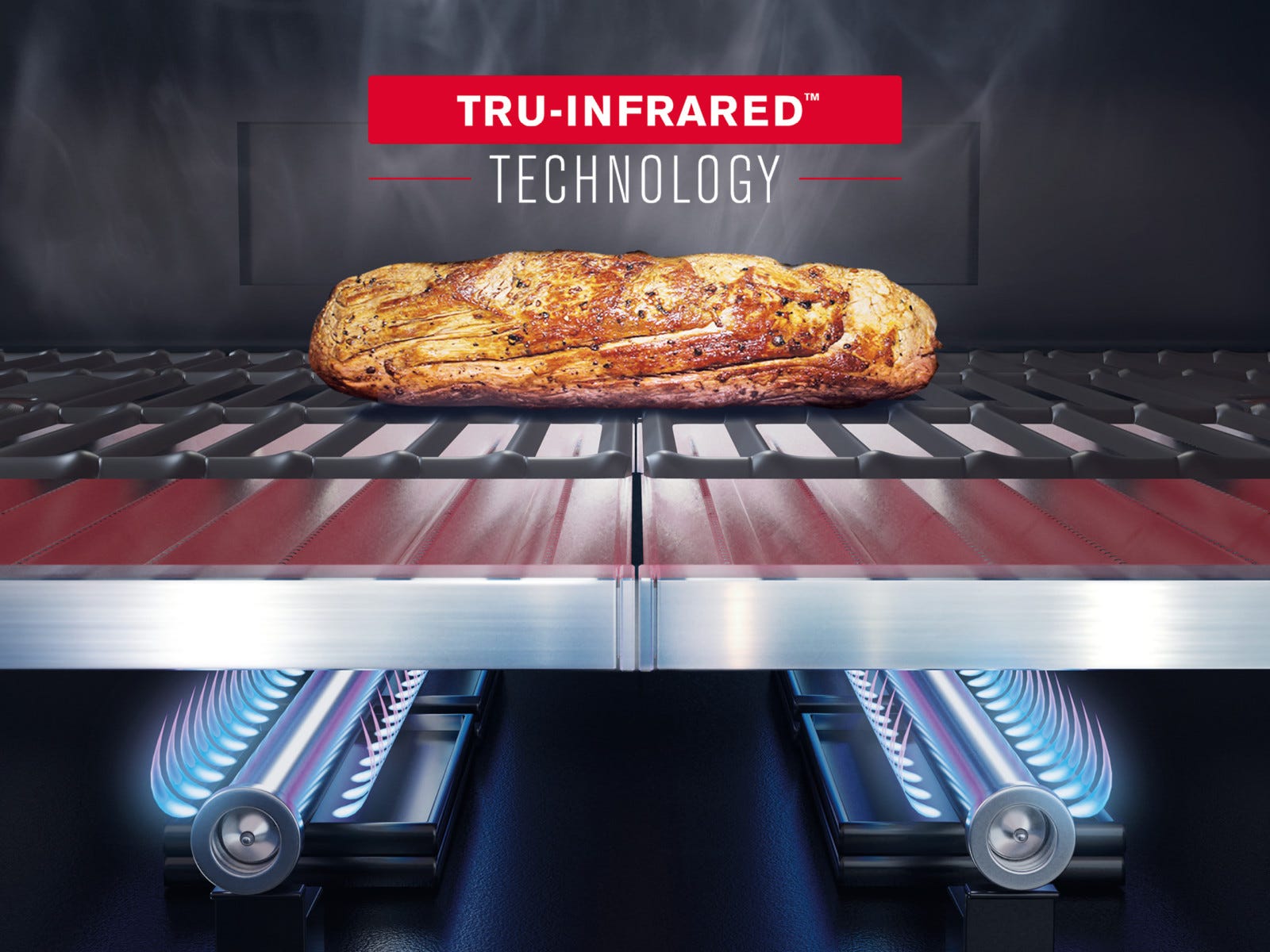 2.
Grillgaller av gjutjärn
Grillgaller av ytbehandlat gjutjärn för bättre värmelagring och perfekta grillränder. Grillgallren är långlivade, rostbeständiga och lätta att rengöra.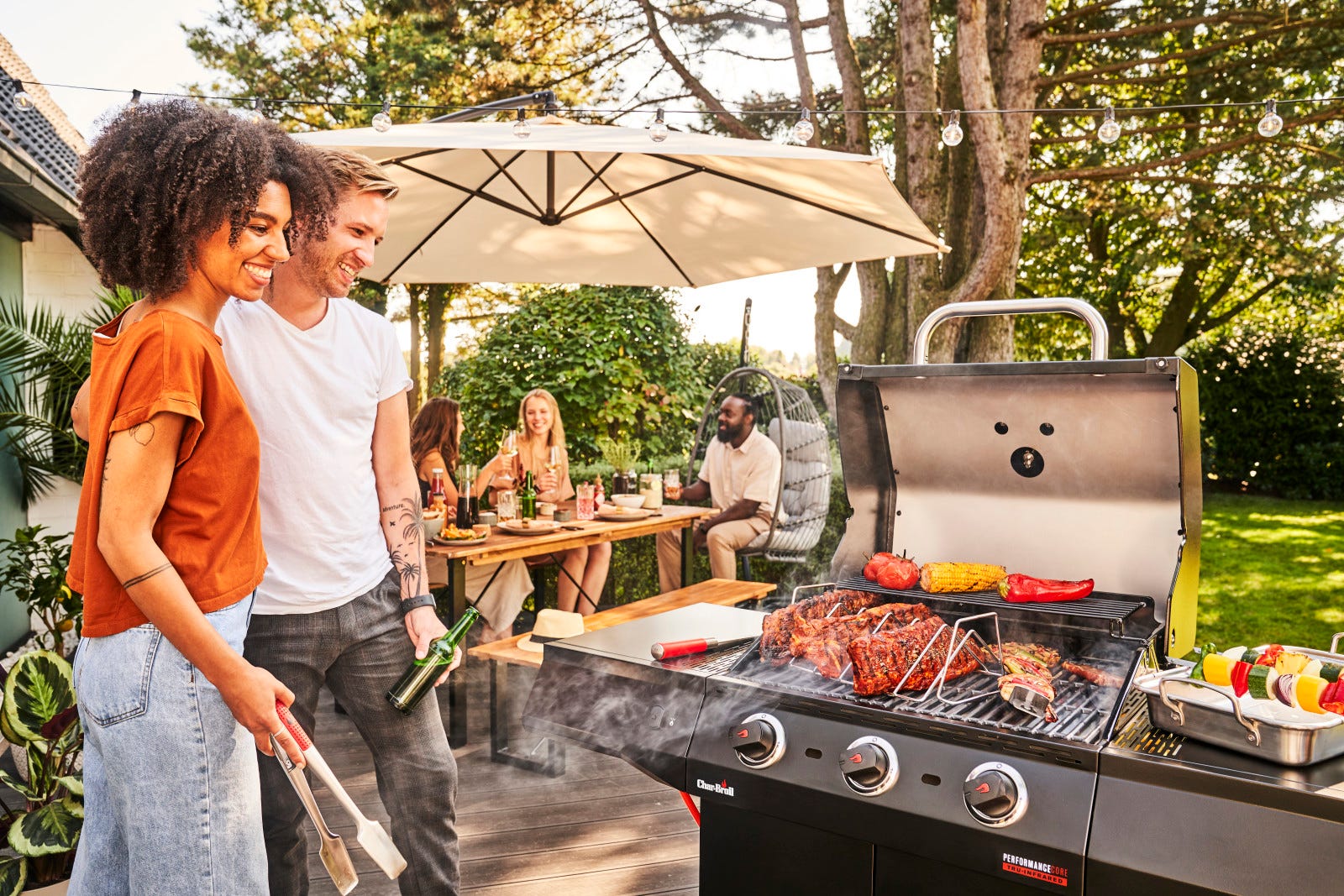 3.
Brännare av rostfritt stål
Tre högeffektiva brännare med låg förbrukning av rostfritt stål för maximal värme med låg gasolförbrukning. Brännarna är värmetåliga och håller extra länge.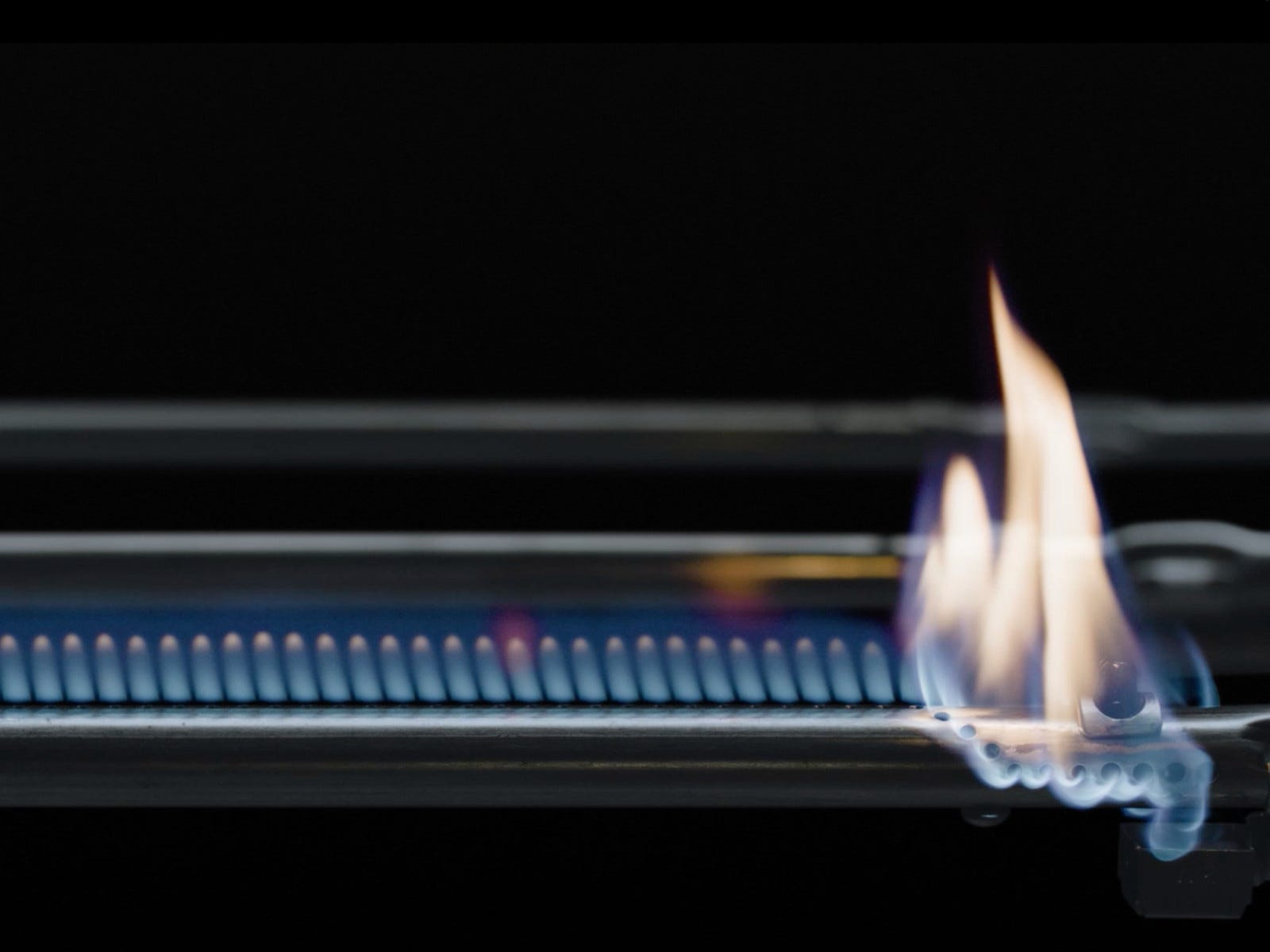 4.
Elektronisk SureFire® -tändning
Sitter på varje brännare och tänder dessa var för sig oberoende av varandra med en knapptryckning - helt utan öppen låga.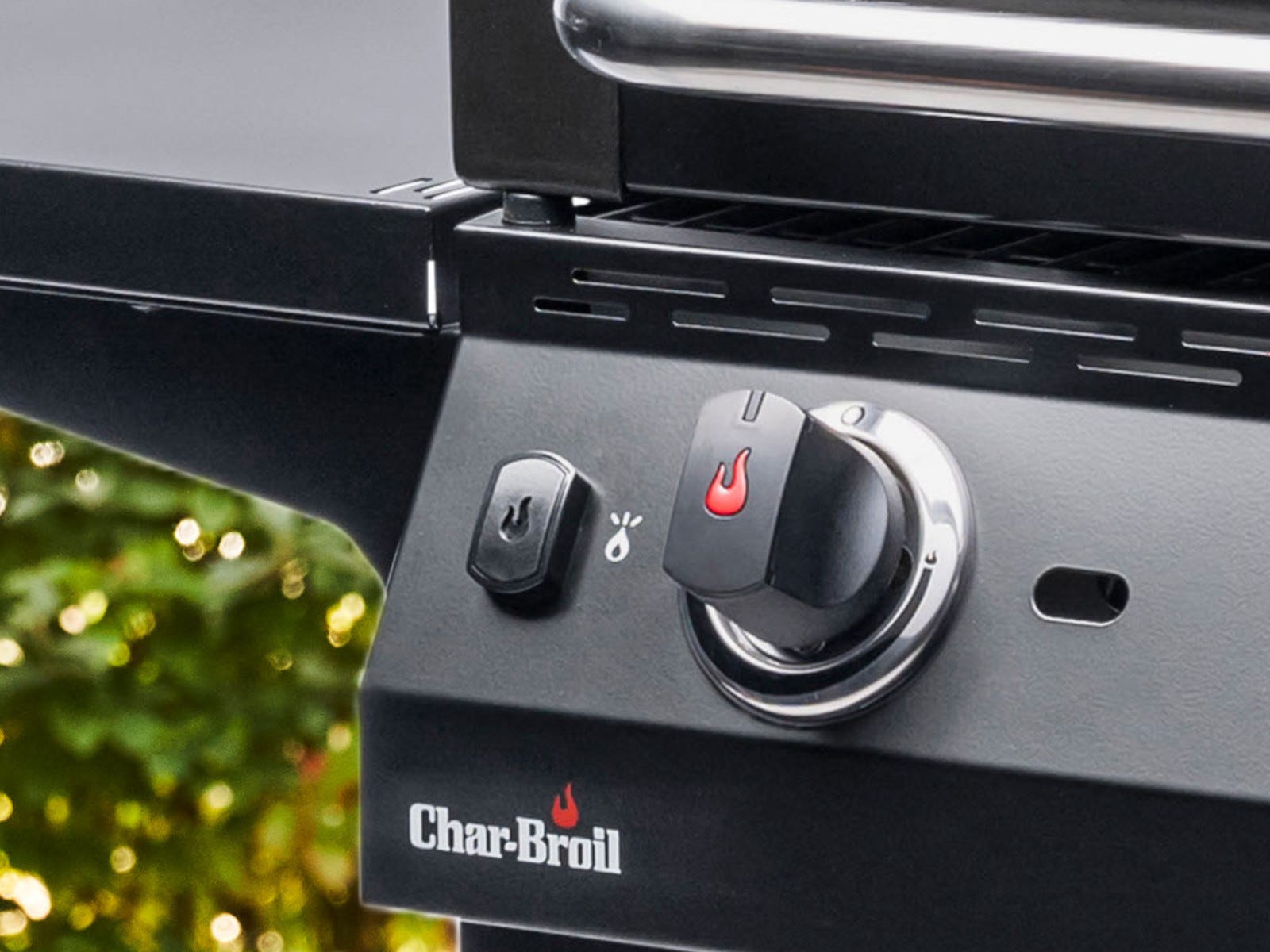 5.
Hållare till gasolflaska
En monterad hållare gör det lätt att placera gasolflaskan rätt och ger ökad säkerhet när man flyttar grillen.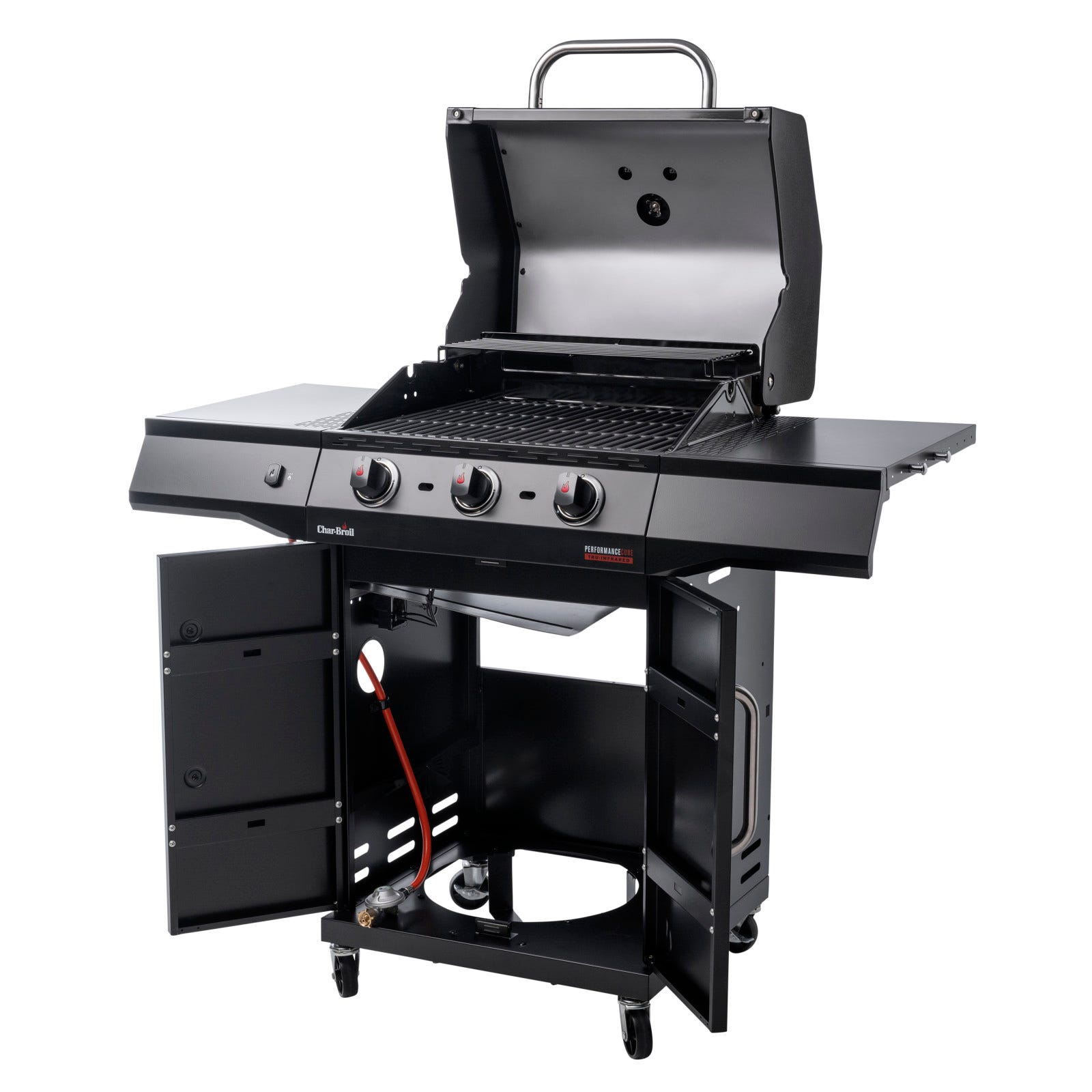 6.
På GEAR TRAX®-krokarna kan man hänga tillbehör så att man alltid har dem till hands.
På GEAR TRAX®-krokarna kan man hänga tillbehör så att man alltid har dem till hands.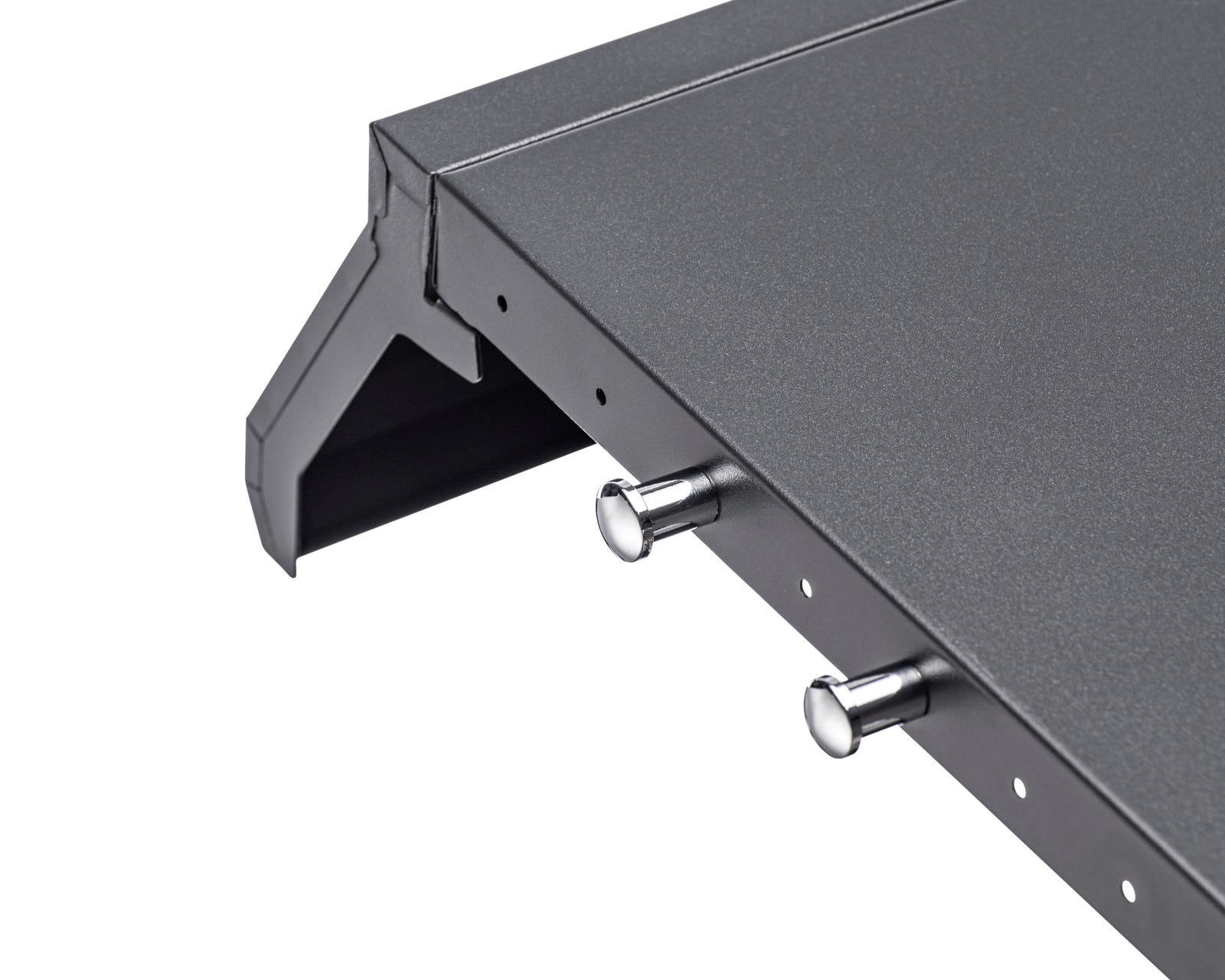 7.
4 hjul med 2 hjullås
Två av de fyra hjulen är låsbara. Denna funktion gör grillen mobil samtidigt som den står stabilt när den används.
8.
Kompatibelt med MADE2MATCH
För mer mångsidighet och komfort kan grillen byggas ut med vårt system MADE2MATCH.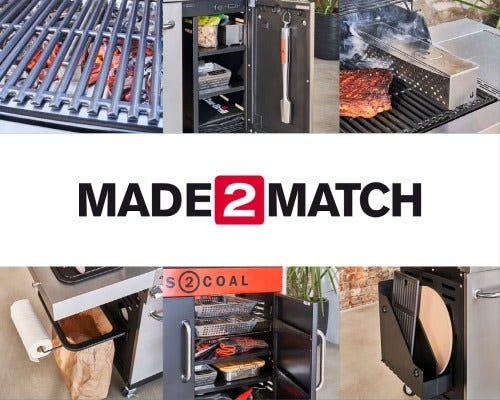 Garanti
Brännare-Garantiperiod (År)
5
Galler-Garantiperiod (År)
2
Lock/Firebox-Garantiperiod (År)
2
Ytterligare detaljer
Barbecue-system
TRU-Infrared™ Technology
Material
Brännarens material
Rostfritt Stål
Grillgaller
Gjutjärnsgaller
Rated

5

out of

5
by
Torrificone
from
Quality!
This is my first non coal BBQ and I was really reluctant at first but after a few weeks of using the Char-Broil Performance Core TRU-Infrared series 4 Burner Gas Grill I do not regret it one bit because It has made my life so much easier as I no longer have to fight with trying to light up and get the coal going or have the mess of cleaning the coal after each bbq. It is so easy to operate and the food is grilled in a lovely even way without burning tge food...so far we have grilled chops, steak and shish kebabs as well as burgers and saussages and each were cooked to juicy perfection. It was a hit with all the family. The Char-Broil 4 burner is a real bad boy toy, It oozes quality and looks fab in black and I really like that I am in control over how many of the 4 burners I want on as each burner has its own ignition. A small 5 kilo gas canister neatly sits inside the bottom trolly neatly out of sight and after several bbq sessions it is still going strong. Putting the Char-Broil together out of the box took me about 2 hours in total but it was easy enough to do by following the instructions and well worth it. I am looking forward to hosting many more bbq's with my Char-Broil over the summer.
Date published: 2022-05-04
Rated

5

out of

5
by
Satoro
from
Amazing BBQ
Had a great time setting it up, was heavy to move so did require two people to do so, unpacked everything and started building it, everything went according to instructions (screws, washers and bolts were right at the bottom of everything when unpacking) and I enjoyed a little DIY. The grills were heavy and made from cast iron which does retain much more juice on the meat, it cooks it at much faster rate than a normal charcoal bbq, leaving it with a perfect sear. Given the temperature gauge built into the hood allowed me to ensure that the meat was cook to the perfect temperature and not constantly lift the lead to check when it would be done. Any excess juices and oils would drop into a drip tray which would require little effort to chuck the excess and place it back in. This also made cleaning easier as it wasn't complicated and didn't create a mess everywhere. The food was cooked evenly and the Bbq was extremely easy to use, I couldn't have asked for a better one. The shape gave it a sleek touch and the branded logo gave it more premium finish.
Date published: 2022-07-04
Rated

5

out of

5
by
Elward27
from
Love it
Great product. Assembly was very straight forward and first cook was amazing. The fact that there are so many accessories to go with it is a nice touch. Easy set up, cook and go and cleaning was amazing. Food was great and probably easiest grill i have had to clean.
Date published: 2022-05-06
Rated

4

out of

5
by
Aexx
from
I like it
For a gas bbq you can't go wrong with this it a briiant bit of kit well made and easy to put together with just a screwdriver only problem is the regulator it comes with is was far to big for any gas bottle I could find
Date published: 2022-05-01
Can the shelves be folded down?
Dear Robin, Yes, they can. Regards, Your Char-Broil Team UK
Date published: 2023-07-15