Gas2Coal 2.0 210

Gas2Coal 2.0 210
Gas2Coal 2.0 210
is rated out of
5
by
1
.
2-Brännare Hybridgrill | För 2-4 Personer | Patenterat Kolfat | Integrerad Kapsylöppnare
Gasol eller kol? Njut av båda med hybridgrillen Gas2Coal®
För alla som inte vill välja mellan gasolgrillningens enkelhet och smaken man får på kolgrillen: hybridgrillen Gas2Coal. På mindre än 60 sekunder byggs den om från gasolgrill till kolgrill och det utan att man behöver ta hjälp av ett enda verktyg. Träkolet fylls bara på i vårt patenterade kolfat och tänds sedan över gasolbrännarna av rostfritt stål, helt utan tändvätska. Kolfatets design ser till att värmefördelningen blir jämn. Kolfatet och grillgallren av gjutjärn kan lätt hanteras med den medföljande gallerlyftaren. På insidan av nyupplagan av vår framgångsprodukt finns plats för en gasolflaska som man lätt kan ansluta och koppla ifrån via åtkomstluckan. Med sina två kraftiga hjul kan grillen bekvämt flyttas dit man vill ha den. Den integrerade kapsylöppnaren av pressgjuten zink garanterar att man snabbt kan öppna sina kalla favoritdrycker. Efter eget behov kan grillen byggas på med förvaringsdelar från vårt system MADE2MATCH.
Läs mer
Läs mindre
---
1.
Grillgaller av gjutjärn
Grillgaller av ytbehandlat gjutjärn för bättre värmelagring och perfekta grillränder. Grillgallren är långlivade, rostbeständiga och lätta att rengöra.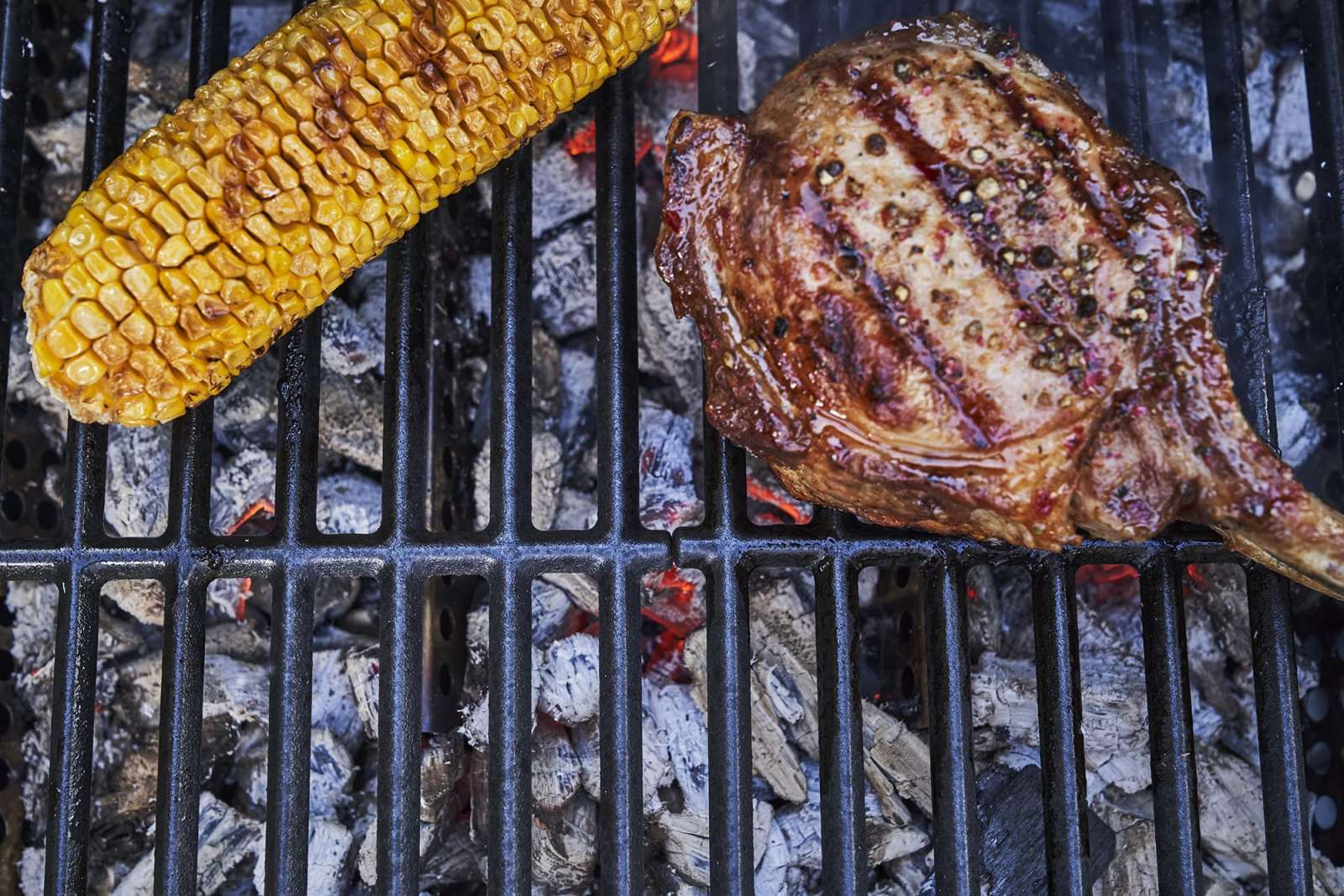 2.
Brännare av rostfritt stål
Två högeffektiva brännare med låg förbrukning av rostfritt stål för maximal värme med låg gasolförbrukning. Brännarna är värmetåliga och håller extra länge.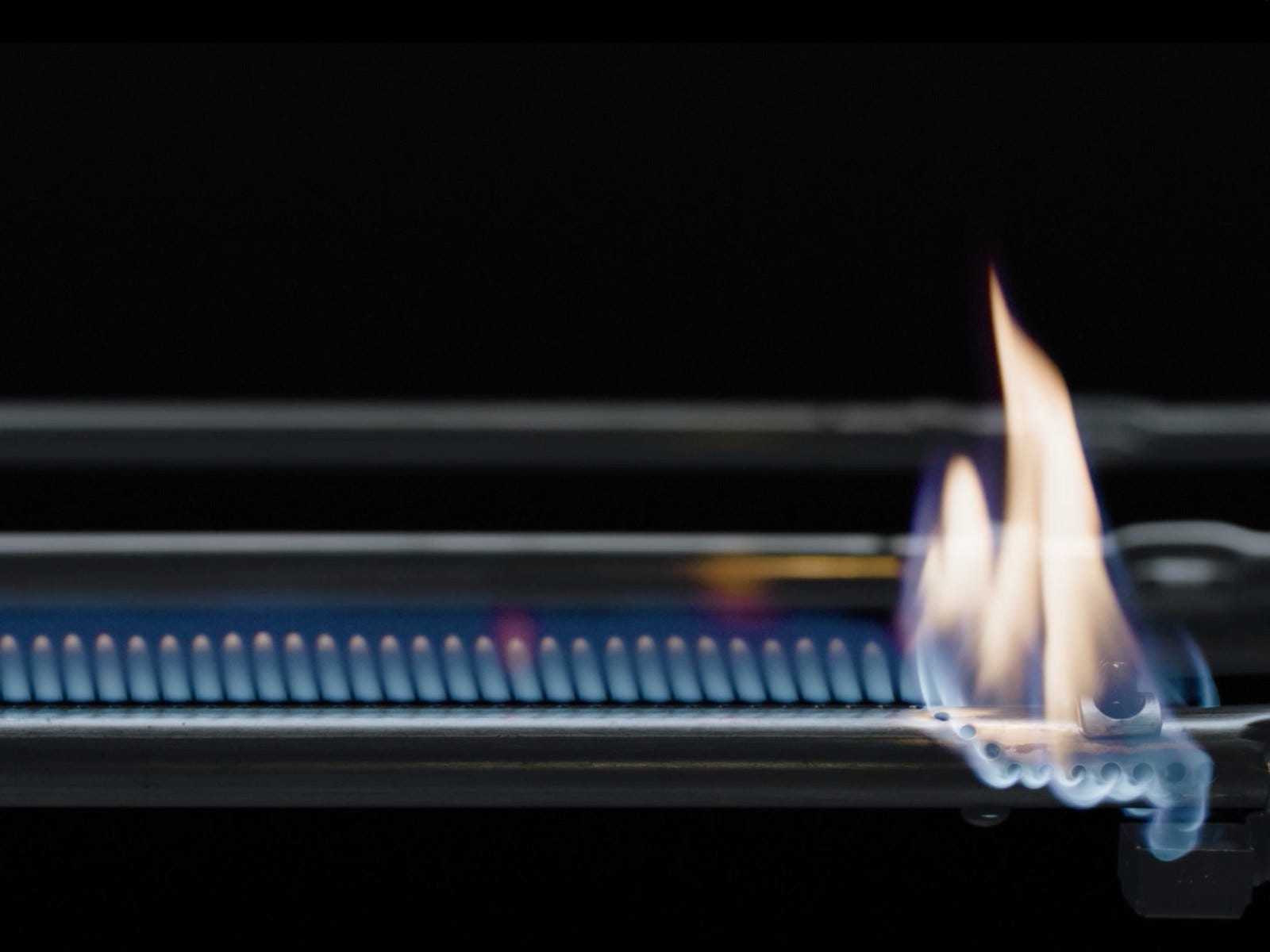 3.
Patenterat kolfat
Det nya, patenterade koltråget ger jämnt fördelad värme och förhindrar uppblossande flammor.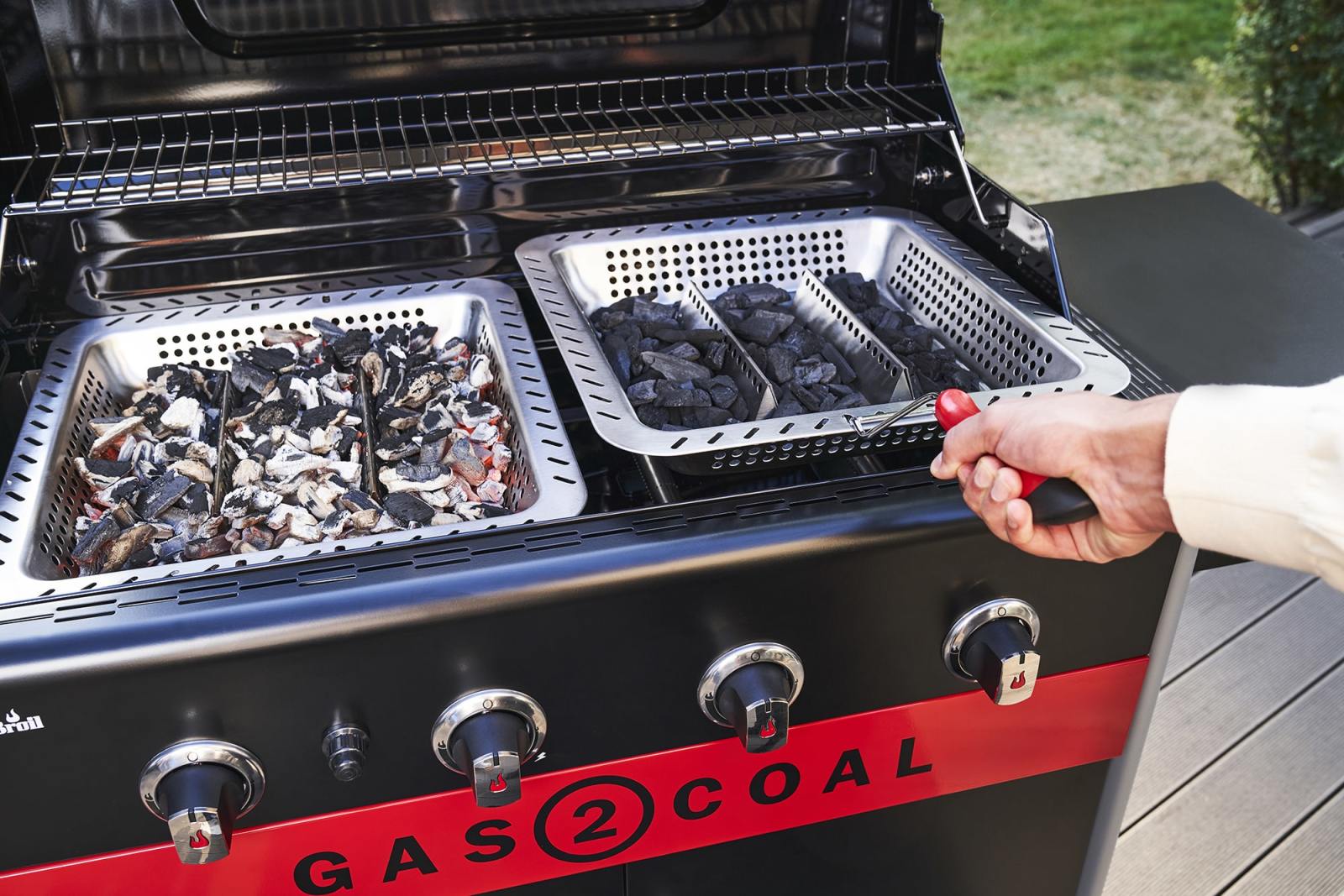 4.
Stor åtkomstlucka
Den stora åtkomstluckan gör det lätt att komma åt gasolflaskan.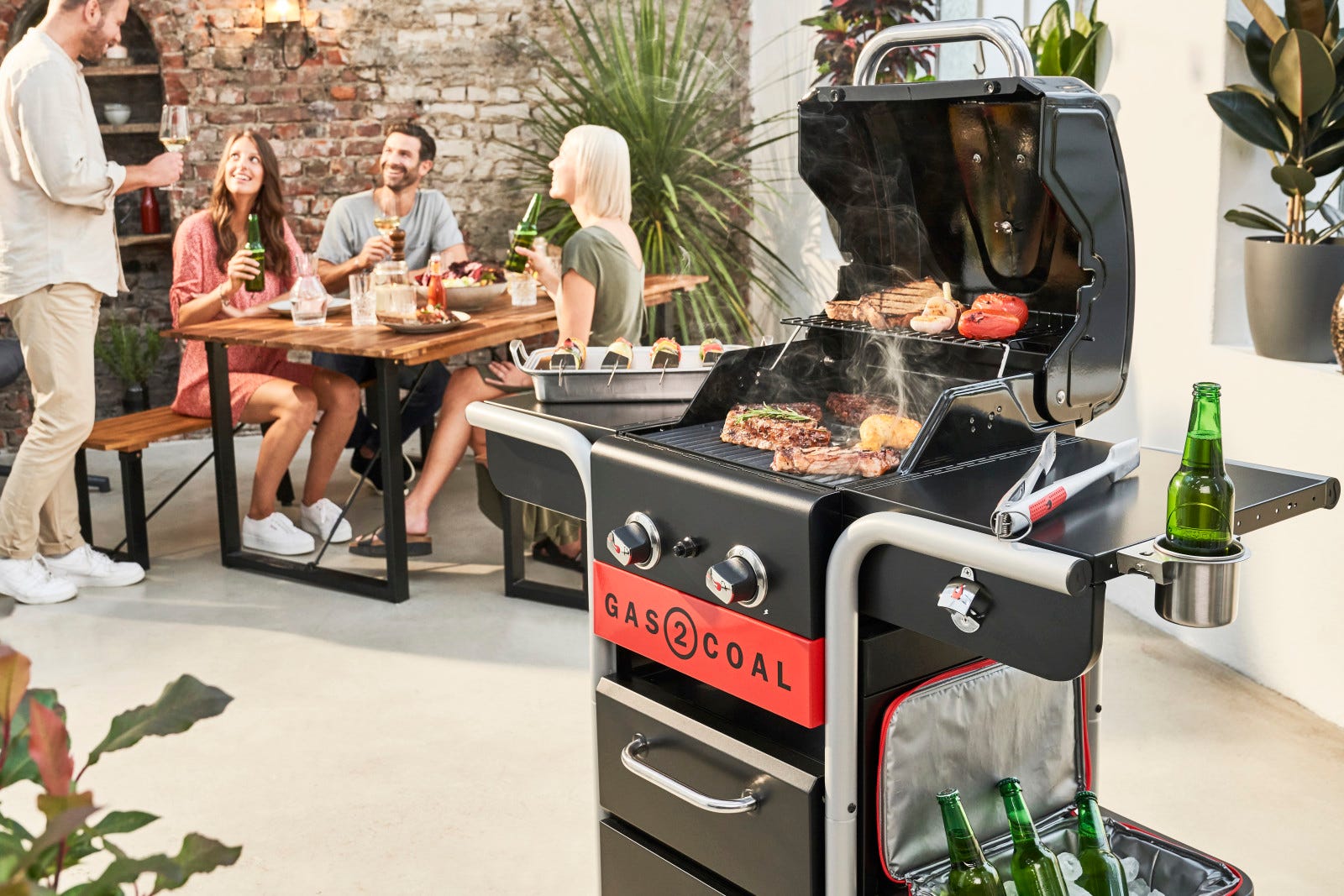 5.
Kompatibelt med MADE2MATCH
Grillen kan utvidgas med vårt förvaringssystem MADE2MATCH (beställs separat).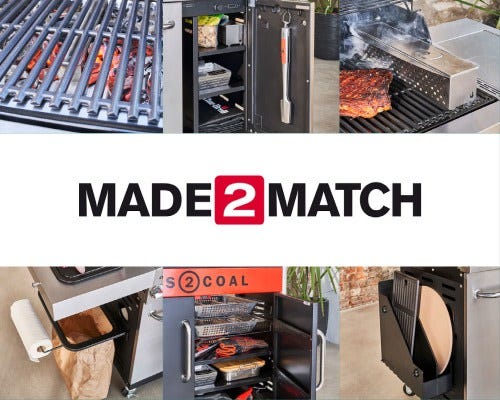 6.
2 Hjul
2 stabila stora hjul ger mer mobilitet och bästa möjliga stabilitet.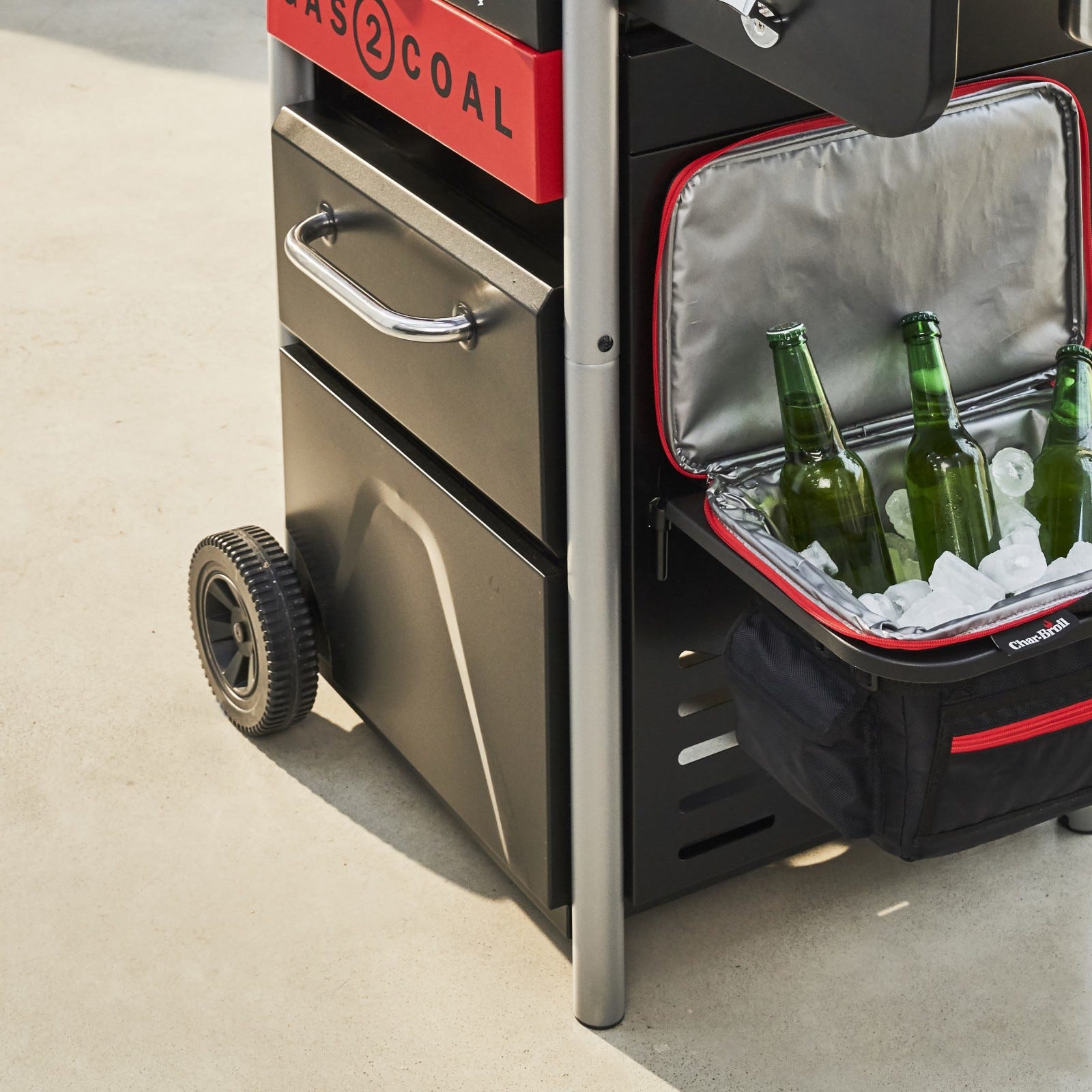 7.
Integrerad kapsylöppnare
En integrerad kapsylöppnare av pressgjuten zink med inpräglad logotyp finns alltid inom räckhåll.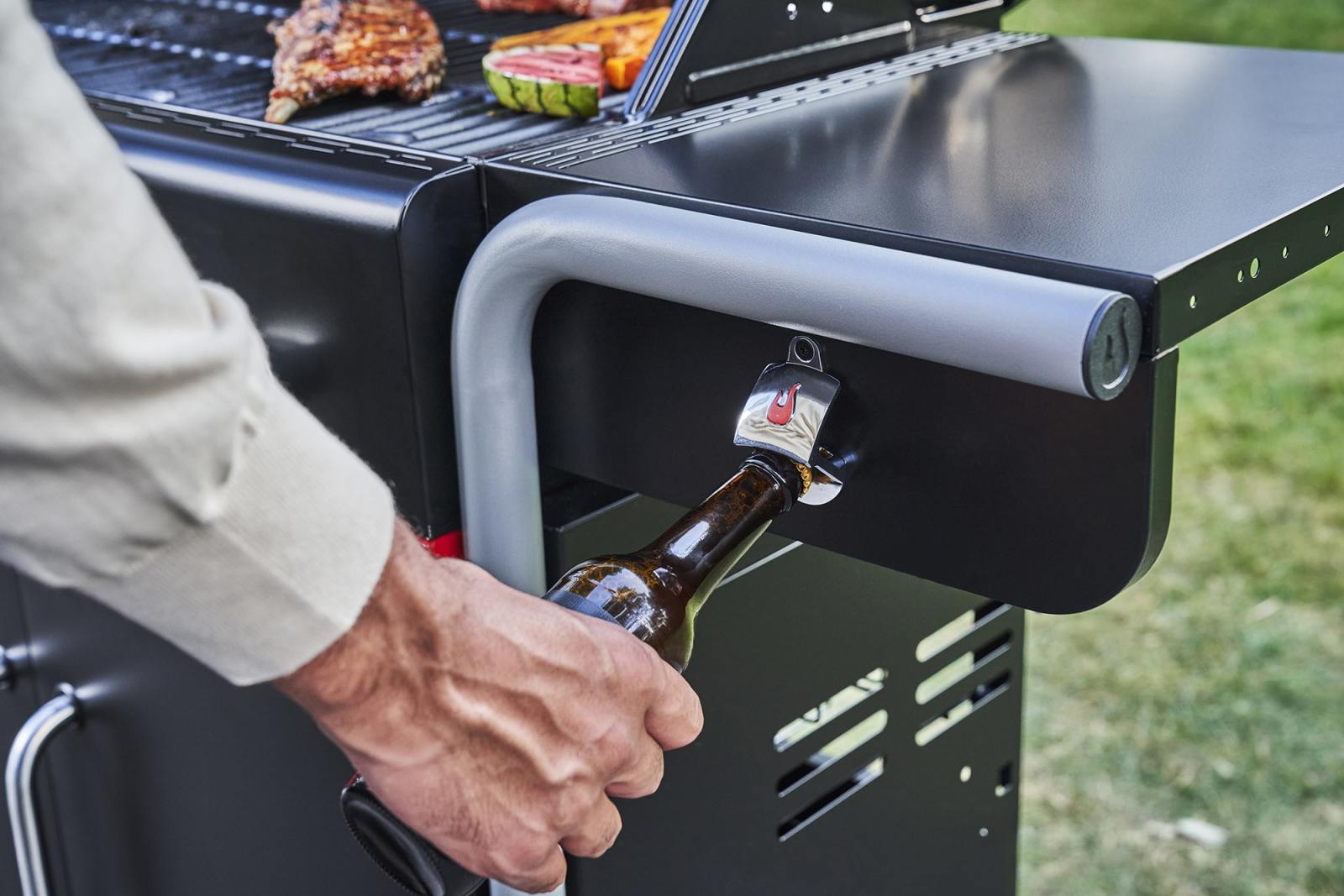 8.
Grillgaller-lyftaren
Med eget fäste på grillen är till för att man bekvämt ska kunna flytta på galler och koltråg.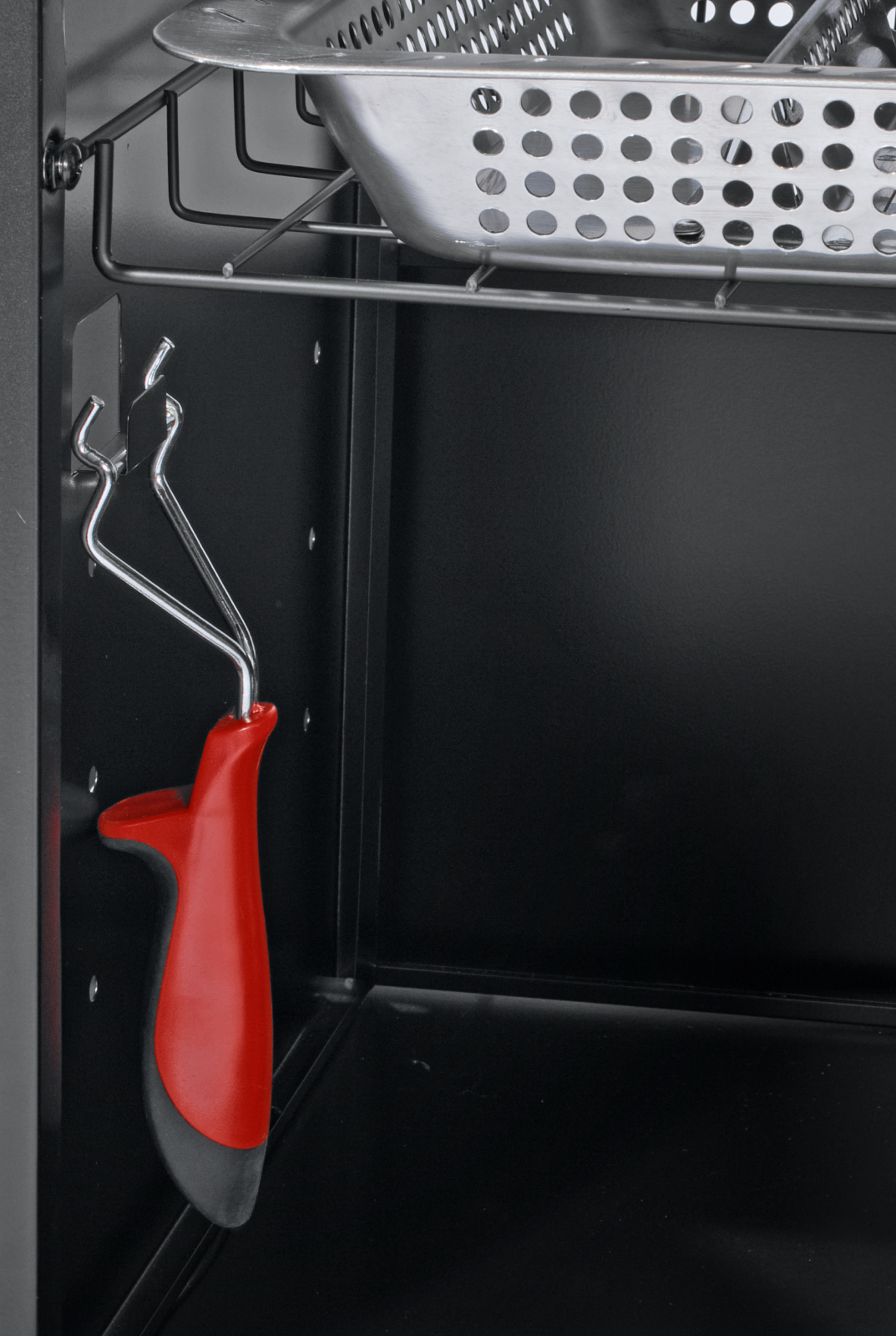 Garanti
Brännare-Garantiperiod (År)
5
Galler-Garantiperiod (År)
2
Lock/Firebox-Garantiperiod (År)
2
Material
Brännarens material
Rostfritt Stål
Material för värmetält
Rostfritt stål
Material för locket
Svart porslinsbelagt stål
Grillgaller
Gjutjärnsgaller
Rated

5

out of

5
by
Anonymous
from
The best of both worlds!
Firstly assembling the BBQ is no mean feat. It took two of us over 2 hours and lots of swearing so be prepared, give yourself plenty of time and read the instructions! I didn't find the app for installation very useful. That having been said it was totally worth it, the BBQ is substantial and good quality, it even has 2 wheels so it can be easily moved around. You have the ability to choose to cook with gas or charcoal or gas and then charcoal to finish food off with the traditional bbq - the ultimate choice and this is what makes the grill so special. This grill only has 2 burners so cooking area is slightly limited so it's best suited to smaller families. All in all it's a great piece of kit and will get plenty of use!
Date published: 2021-06-01
Hello, Can I light up the charcoal without using the gas function? That means can I light up the charcoal with firelighters and / or matches and paper? Thank you!
Hi Enim, the coal can be lit here e.g. also with match, paper. But no methylated spirits, etc. should be used. Many greetings Your Char-Broil Team
Date published: 2023-10-24
what regulator does the bbq range come with? blue gas bottle or green gas bottle?
Hello Mickyoung, Patio Gas is more commonly used for outdoor purposes and more specifically for barbecues and patio heaters. These bottles are compatible with a 27mm clip-on regulator. Patio gas can be either propane or butane and supplied in a patio gas bottle or patio gas cylinders. Both works equally as well, although propane is preferred in cold weather". Best regards, Your Char-Broil Team
Date published: 2023-08-21
On the 3 burner model - what is the dimensions of the unit (excluding the side "wings") . Also i have a 10kg gas bottle - how long is the hose/ connection to the gas bottle - would it reach to store the gas bottle when in use under the non hot plate side?
Hello stacker, The Gas2Coal 2.0 210 model cannot be mounted without the side shelves, as they are connected to the side braces of the grill, which make the stability of the grill. In the bottom cabinet of the barbecue can be placed a gas bottle not higher than 43 cm including the pressure reducer. Many greetings Your Char-Broil Team
Date published: 2023-08-15
How wide is the cooking grill for the 2 burner model and 3 burner model? Thanks
Hello ClayB, The width is 44 cm for the 2 burner and 64 cm for the 3 burner model. Best regards, Your Char-Broil Team
Date published: 2023-07-19
Can this BBQ be used for smoking meats?
Hello ModernMan. The Gas2Coal 2.0 210 #140924 model can also be used for smoking. Here, for example, our CAST IRON SMOKER BOX #140551 or STAINLESS STEEL SMOKER BOX #140552 or also our MADE2MATCH SMOKER BOX #140071 can be used. Best regards Your Char-Broil Team
Date published: 2022-10-19
Can you tell me what is the height with the lid open and lid closed? Thanks
Hello Nebs, The height with the lid open is 54 cm, and with the lid closed is ca. 14- 24 cm. Best regards, Your Char-Broil Team
Date published: 2022-09-24
Am confused to buy the right gas cylinder to my BBQ (char broil_ gas 2coal 2.0 210) so can u please help me. Thanks
Hello Makeda, You can use a propane or butane gas. Cylinder of 6 kg or less may be placed on the ground under the side shelf or inside the appliance in place provided. Larger cylinders are to be placed under side shelf or behind the barbecue only. Cylinders placed in the appliance shall have a maximum diameter of 345mm and maximum height of 430mm. Cylinders placed on the ground shall not be placed under the hot plate. Best regards, Your Char-Broil Team
Date published: 2022-09-13
Can you use the 10kg patio gas if you just keep it to the side of the BBQ? Just wonder if the 5kg was recommended due to it fitting within the unit or if there is more to it than that.
Hello, Larger cylinders are to be placed under side shelf or behind the barbecue only. Cylinders placed on the ground shall not be placed under the hot plate. Best regards, Your Char-Broil Team
Date published: 2022-08-09