Professional PRO S 2

Professional PRO S 2
Professional PRO S 2
is rated out of
5
by
5
.
2+1-Brännare | För 2-4 Personer | TRU-Infrared™ Technology | 900 °C Sear-Brännare
Din professionella gasolgrill i premiumklass med 900 °C högeffektiv sear-brännare och specialutrustning som lyfter dig till nästa BBQ-nivån
Om du inte vill avstå från något när du grillar, är Professional PRO grillen för dig. Den är vår grill i extraklassen, för den är extra het, extra komfortabel och extra mångsidig. Vårt innovativa grillsystem TRU-Infrared™ står för framgångsgarantin som garanterar att din grillmat blir saftig och mör inuti. Den högeffektiva sidobrännaren på sidan ger en perfekta stekytor och proffsiga grillränder. Grillen tänds med den elektroniska SureFire®-tändningen med en enkel knapptryckning, helt utan öppen låga. Två energisnåla och högeffektiva brännare av rostfritt stål sitter riktade uppåt och producerar maximal och jämn värme, samtidigt som gasolförbrukningen är låg. Värmen som alstras på så vis förs över via värmefördelarna av rostfritt stål till de långlivade porslinsemaljerade gjutjärnsgallren som lagrar värmen och avger den till maten på grillen. Det extra höga, dubbelsidiga locket av rostfritt stål inklusive termometern i locket gör att man kan använda en mängd olika matlagningsmetoder. Professional PRO med sin högkvalitativa konstruktion av rostfritt stål ser inte bara riktigt snygg ut, den har dessutom en mängd praktiska extrafunktioner. En röd lampa lyser upp de ergonomiskt designade, förkromade kontrollvreden när man vrider på dem. På så vis får man både en modernare design och bättre kontroll över gasflödet. Två stora dörrar av rostfritt stål som är försedda med krokar för grillverktyg döljer grillens insida, där en hållare sitter monterad för gasolflaskor på upp till 11 kg plus att det finns extra förvaringsutrymme därinne. Förvaringsutrymmet kan gestaltas efter behov med vårt system MADE2MATCH, som tar mångsidighet och möjligheterna till individuell och anpassning av grillen till helt nya nivåer. Grillning har aldrig varit lättare!
Läs mer
Läs mindre
---
1.
TRU-Infrared™ Technology
Vårt unika grillsystem med framgångsgaranti. Fem fördelar för din ultimata grillglädje, Upp till 50% saftigare mat I Upp till 30% lägre förbrukning I 100% jämn värmefördelning I Inga uppblossande flammor I Enkel rengöring.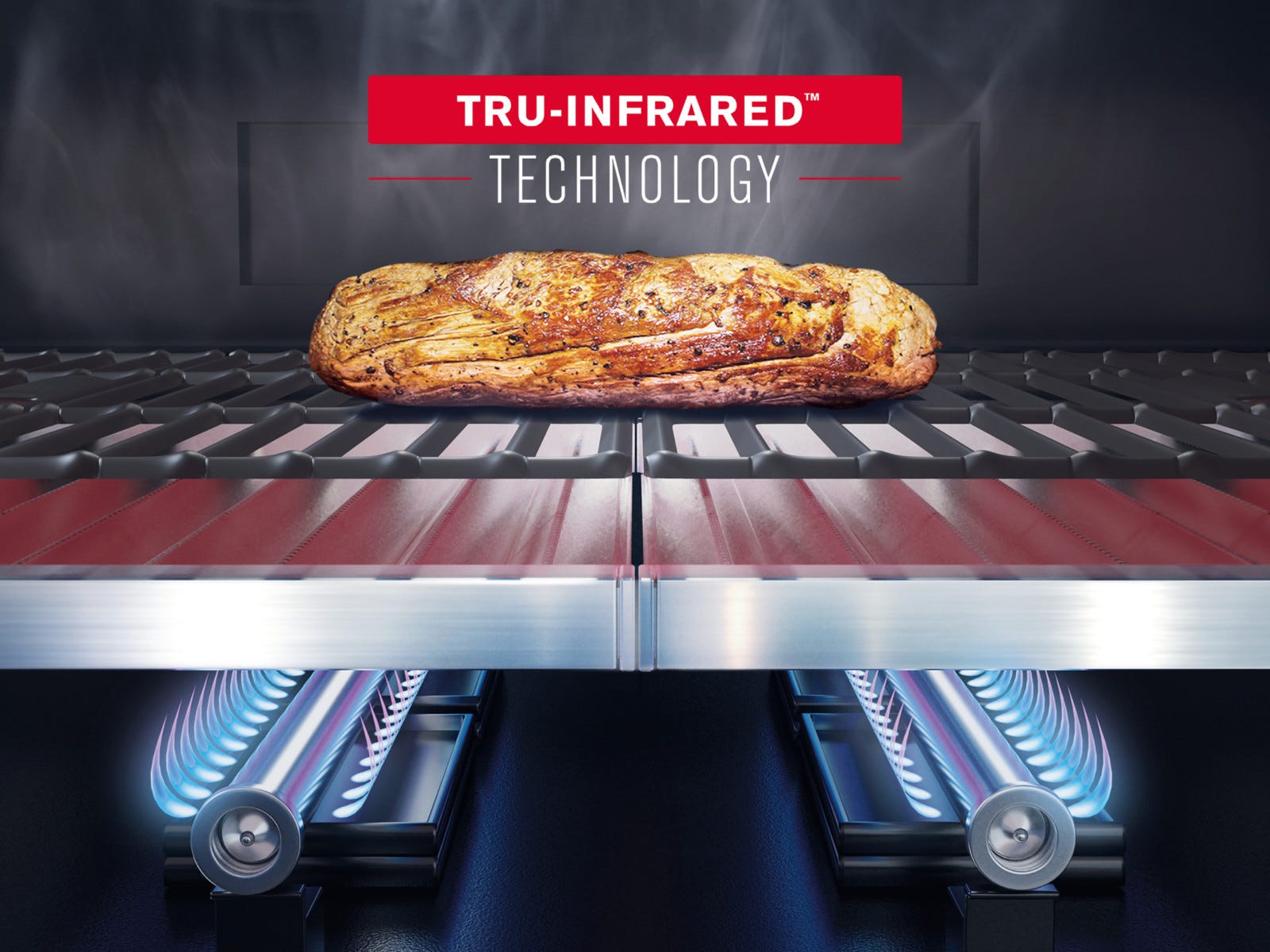 2.
Grillgaller av gjutjärn
Grillgaller av ytbehandlat gjutjärn för bättre värmelagring och perfekta grillränder. Grillgallren är långlivade, rostbeständiga och lätta att rengöra.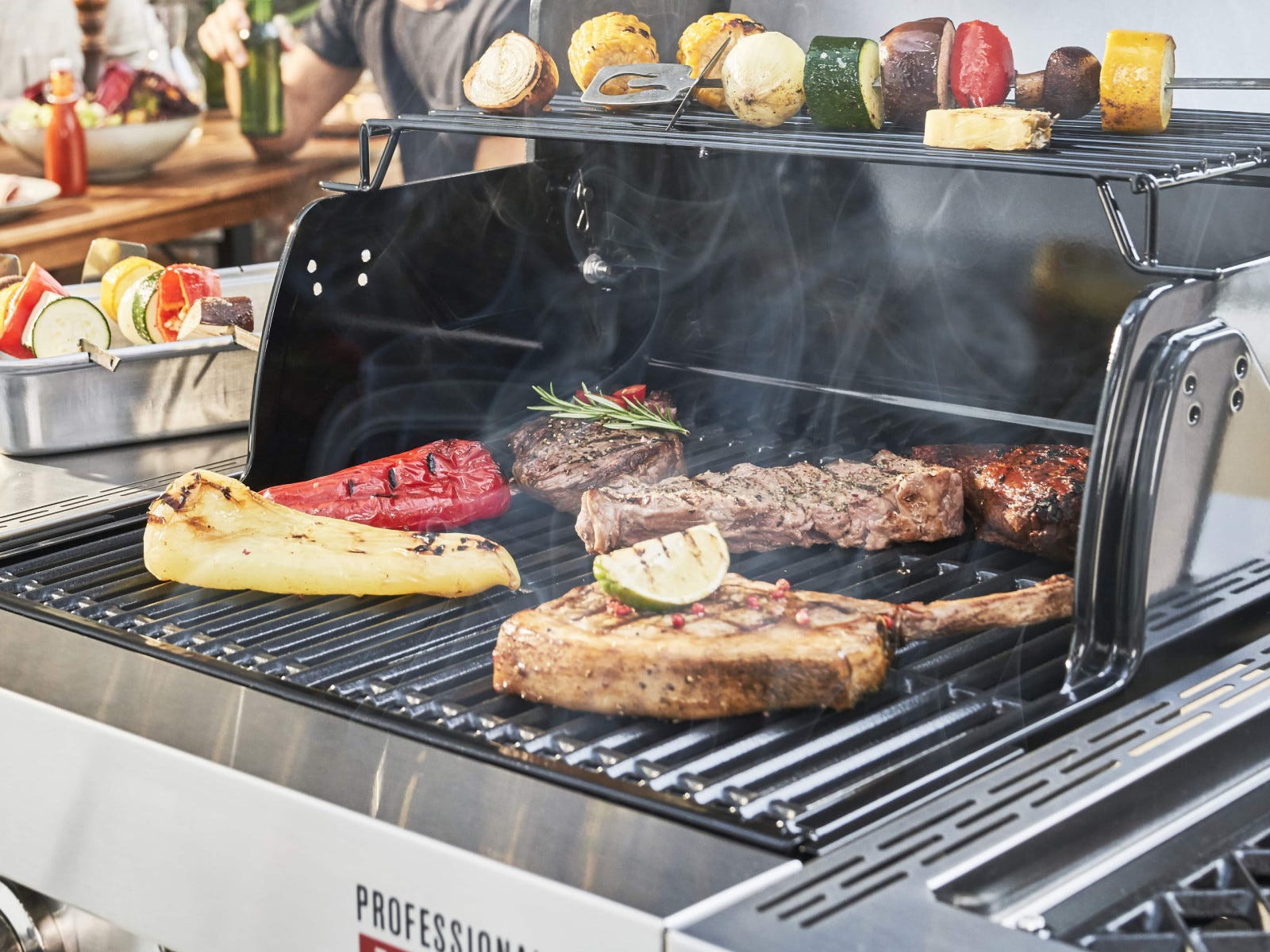 3.
Högeffektiv sear-brännare
Med det högeffektiva värmesystemet som uppnår temperaturer på upp till 900 °C på brännaren får du en knaprig yta och den perfekta grillsmaken. Det massiva grillgallret av gjutjärn är helt fenomenalt på att överföra värme och skapar perfekta grillränder tack vare den professionella utformningen.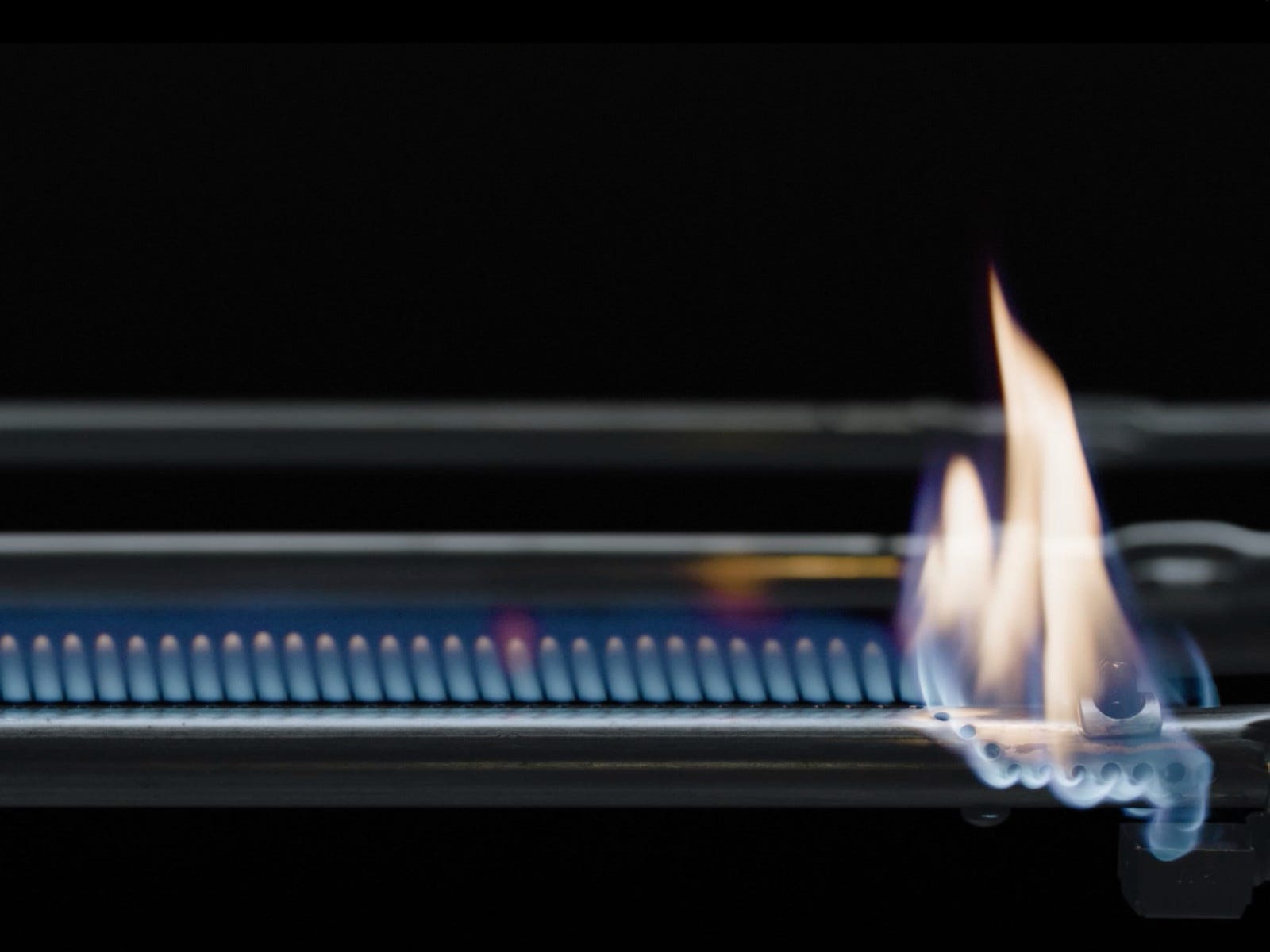 4.
Elektronisk SureFire® -tändning
Sitter på varje brännare och tänder dessa var för sig oberoende av varandra med en knapptryckning - helt utan öppen låga.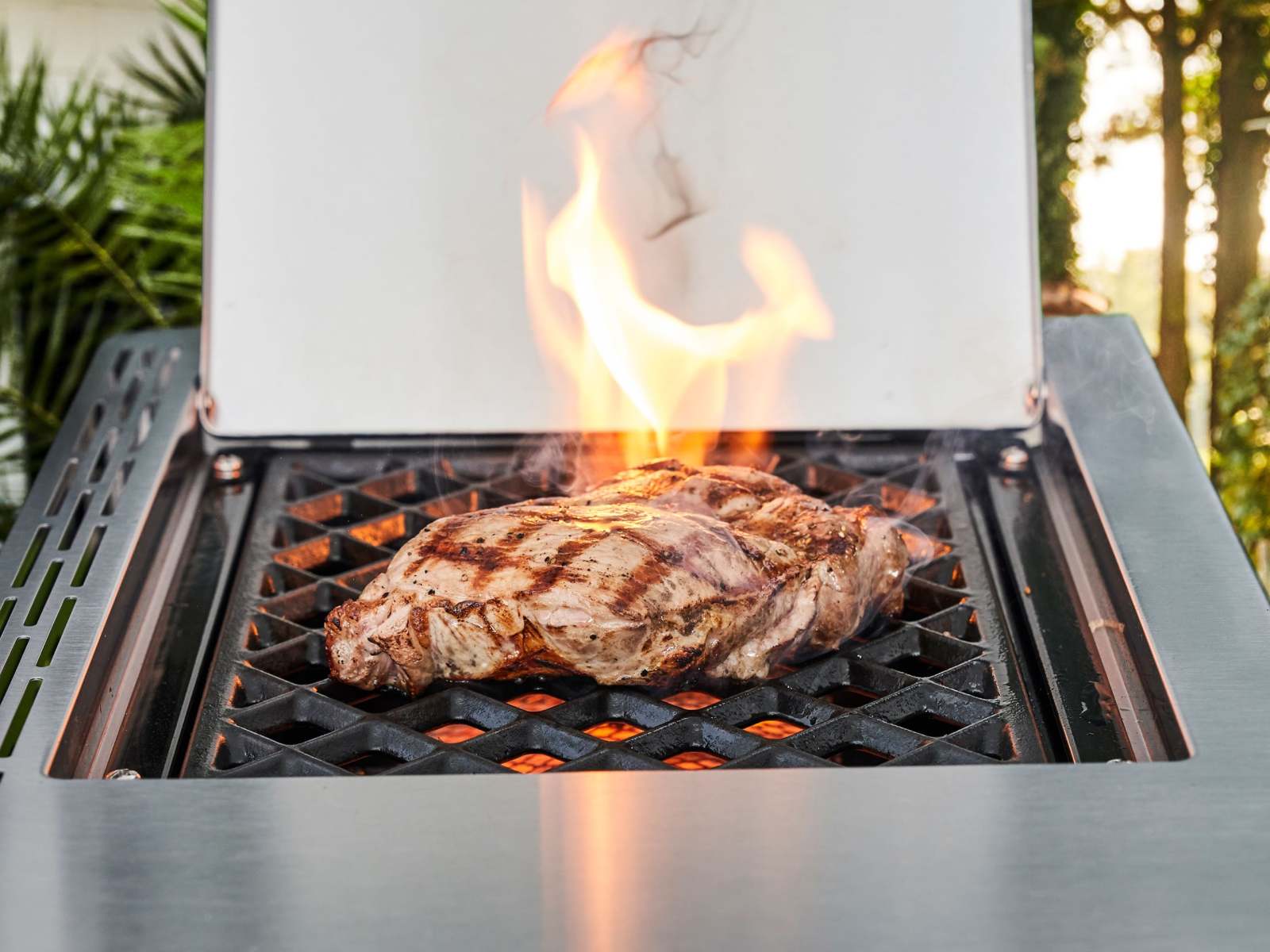 6.
Hållare för 11kg gasolflaska
Den inbyggda, stora och stabila hållaren gör att du kan få plats med en gasolflaska upp till 11 kg.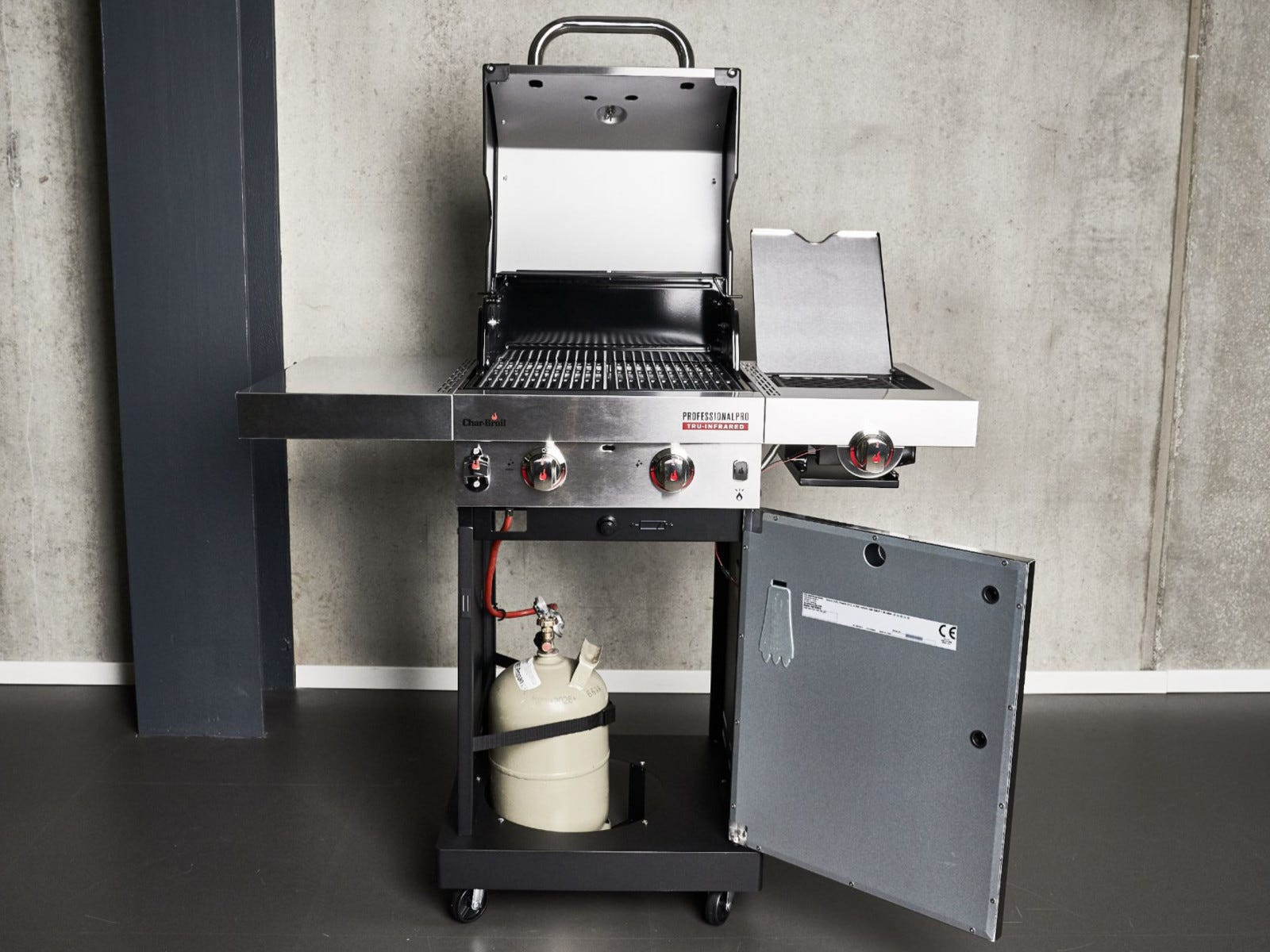 7.
Fällbart sidobord (till vänster)
Som ger extra avställningsyta och sparar plats när grillen förvaras.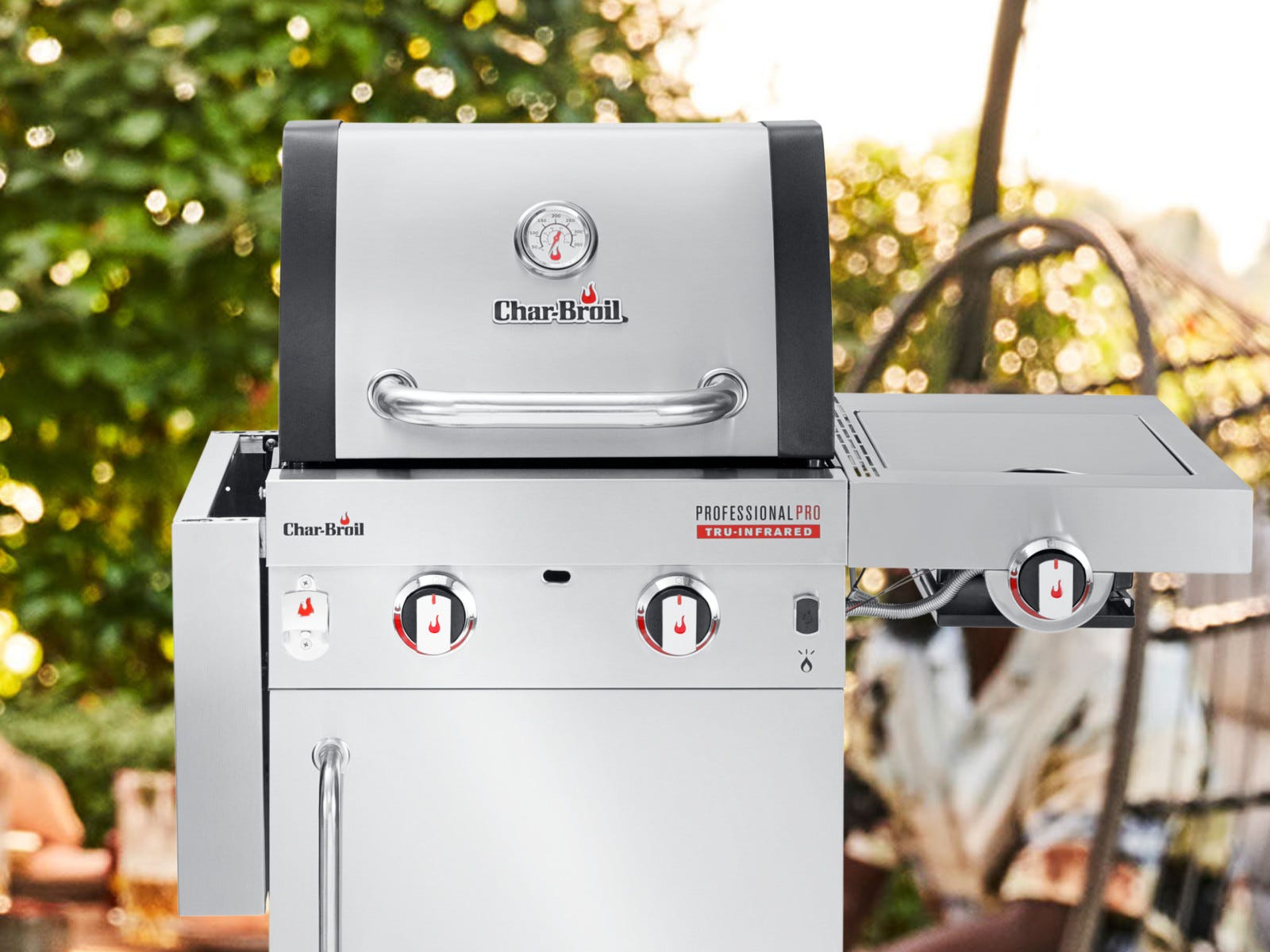 8.
MADE2MATCH-koltråg
Nu kan du också tända din Professional PRO eller CORE-gasolgrill på mindre än 30 sekunder med träkol med MADE2MATCH-koltråget. Det enda du behöver göra är att sätta in koltråget och insupa lukten av träkol på gasolgrillen. Du kan också göra grillen mer mångsidig och öka komforten genom att utöka grillen med praktiskt taget alla övriga MADE2MATCH-tillbehörsartiklar.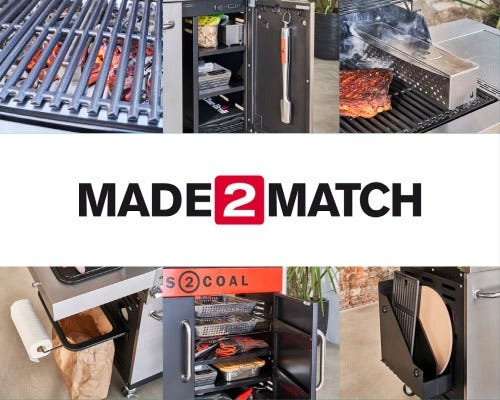 Garanti
Brännare-Garantiperiod (År)
10
Galler-Garantiperiod (År)
3
Lock/Firebox-Garantiperiod (År)
2
Ytterligare detaljer
Barbecue-system
TRU-Infrared™ Technology
Material
Brännarens material
Rostfritt Stål
Material för locket
Rostfritt stål
Grillgaller
Gjutjärnsgaller
Rated

5

out of

5
by
Sdavey
from
Amazing
So so so happy with this fantastic always used coal bbq before but this has changed me for good taste is great easy clean up and big enough to cook for whole family on can't wait for next bbq now roll on the sunshine
Date published: 2021-06-03
Rated

1

out of

5
by
Josea
from
Nightmare to put it together
The BBQ comes like an Ikea sofa. You have to put everything together, including gas hoses and adaptors that won't fit and electrical parts. If I knew I would have chosen something else
Date published: 2022-07-01
Rated

4

out of

5
by
DickC
from
Cooks very well
Saw two other reports between 5 hours and 1.25 hours to assemble. I would say I was about 2.5 hours in total and I have arthritis. Small error in screw naming in instructions but easily worked out. One cable to side burner is too short ( Charbroil support says this is not possible as there is only one cable - well actually there is another with a different connector that is too long for it's job - wonder what happened inmanufacture). The structure is very wobbly as pointed aout by another - could defintely do with a back cover or diagomal bracing bars.
Date published: 2023-05-21
Rated

5

out of

5
by
Anonymous
from
So far so good - not that hard to assemble
I mostly wanted to add this review to balance another that I have seen here about the BBQ taking 5 hours to assemble. It wasn't the case for me. It took me about 1 1/4 hours to assemble and 1/2 of that time I had a 3 year old "helping". Online assembly instructions are helpful but personally prefer a book so I can easily read ahead and use in a sunny location without screen glare. Also there is one mistake in the instructions where the working screws are referenced (V instead of C) but worked out in about 30 seconds and clearly a phonetic typo. I've used the BBQ once so far and I can comfortably say it meets expectations around heat distribution and the high heat side burner. One area to improve would be the overall stability of the trolley. I was surprised there is no back panel which would have sorted this.
Date published: 2022-07-30
Rated

5

out of

5
by
IOANNIS
from
SPECIAL BBQ
THE BBQ CAN DO EVERYTHING IT PROMISES.IT IS A PERFECT CHOICE FOR A SMALL AREA. THE QUALITY IS EXCELLENT.
Date published: 2021-04-29
Hi, 1) Can you please advise which model griddle is the exact fit for the PRO S 2 please? 2) Would it be suitable to use on the sear burner too? 3) Is there a link that details which accessories are suitable for this model?
Hi Jonesb73, for the Professional PRO S 2 we recommend the griddle for 2-burner grills 140012 (https://www.charbroil.co.uk/2-burner-grill-griddle-uk-140012). For the Sear Burner, you can use the cast iron griddle for side burner 140515 (https://www.charbroil.co.uk/cast-iron-griddle-uk-140515). Kind regards Your Char-Broil Team
Date published: 2023-08-20
What is the width of the bbq when sidetable(s) are folded down? Is this width different from the Pro 2 without side burner? I presume the side burner does not fold down? Thanks
Hi SimonY. On the Professional PRO S 2 model, only the left side tray can be folded down. When the left side shelf is folded down, the grill is approx. 94.3 cm wide. Many greetings Your Char-Broil Team
Date published: 2023-08-06
Can this Gas grill be plumbed to use LPG from Calor Gas? Can the side tables not be installed as it will be built into an outdoor kitchen?
Dear John, We do not recommend using our grills in an outdoor kitchen. If you do so you would loose your warranty. We do have an outdoor kitchen. Please see under the following link: https://www.charbroil.co.uk/ultimate-3200-uk-140906 All our grills are to be used with patio gas and do not work with natural gas from a gas pipe. We hope this information was helpful. Kind regards, Your Char- Broil Team UK
Date published: 2023-07-10
I've seen a statement before that the std charbroil rotisserie  does not fit this model. Can you please advise if this is the case? More importantly can you advise of a rotisserie that DOES fit this model.  Thanks, Dave
Hello Dave, We recommend the Premium rotisserie #140103 for your barbecue model. Best regards, Your Char-Broil Team
Date published: 2022-10-01
Hello, I want to ask if you can cook sauces and soups on "sear burner 900" or is it just for roasting meat model: PROFESSIONAL PRO S 2
Hello Stef66, yes you can. You can set it on the lowest position and then it is possible to use it as a kind of sideburner. But you need a high quality cooking pot, to ensure, that it can resist high temperatures. Enjoy a lovely dish your Char-Broil Team
Date published: 2022-05-21
What is the width of this bbq when the side tables are expanded out?  Thank you 
Hi ChristianHinch, The grill measures 120cm when the side tables are extended. Best regards, Your Char-Broil Team
Date published: 2022-02-07
Hi Just put my grill together but the ignitor isn't clicking or sparking. I've checked new batteries and reconnected wires multiple times, still nothing, does it need gas connected to spark?  Thanks
Hello Rossi Mac, the BBQ needs no gas to have a spark. Did you put in the batteries the right way? Are all wires connected to the right place? If so, and you still have no spark please get in touch with our consumer service. Best regards your Char-Broil Team
Date published: 2021-08-20
Can I use butane gas
Hi Grey back, yes you can use propane or butane gas for this BBQ. Enjoy you BBQ season your Char-Broil Team
Date published: 2021-08-07